For the purpose of downtime reduction this tablet will display only Inputs/Outputs, faults and alarms. A proprietary detection algorithm will pinpoint to the operator all faults and alarms that have been detected, This approach is a part of IoT Solution — the Internet of Things.
Definition
The Internet of things (IoT) is the network of physical devices, vehicles, home appliances and other items embedded with electronics, software, sensors, actuators, and network connectivity which enables these objects to connect and exchange data. Downtime Reduction Group successfully applied this principle for detecting faults and alarms in automation system we have being working.
Tablet HMI comes in different sizes and operating systems, such as Android, iOS, and Windows. Depending on OS used, an internal application must be used to accommodate different communication protocols in terms of PLC makes and their networks. Downtime Reduction Group is using several solutions presently available for the tablet/smart-phone deployment.
All screens on the tablet HMI are developed pm the WEB server attached to the PLC
Some of the screens are developed using tablet's applications, such as HMI Droid Studio.
HMI Droid Studio
Panels are created quickly and easily using the development tool HMI Droid Studio that runs on Windows PC as shown below:
Connections (symplified)
Media player or PC with Android-x86 in a local network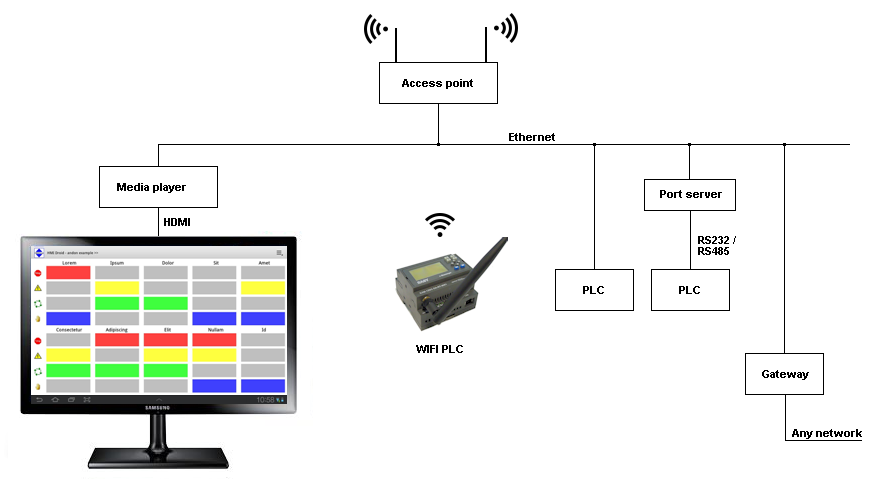 Communication over ethernet between a media player or a PC with HMI Droid and the PLC either directly (eg Modbus/TCP or Siemens S7 Communication) or through a serial port via a port server (eg COMLI or Modbus RTU).
Link preferences should be set to Wi-Fi, or Ethernet UDP when using SattBus COMLI.
HMI Droid can be used e.g. with WiFi PLCs from XLogic Sweden. (Select protocol Modbus/TCP class 1.)
Port server tested with HMI Droid and works well is MOXA NPort 5110 .
Please note: for any specific application please contact Downtime Reduction Group ad 437.889.3183